Happy Independence Day y'all!
This year we're blessed with a three-day weekend to celebrate this great country and our independence, and we plan to celebrate with fireworks, music, grilled meats and of course, beer! Because what better beverage than beer to drink while toasting our great nation's freedom? While beer may not be an American invention, it's been brewed on our soil as far back as 1587 by Virginia colonist who no doubt raised a few pints to celebrate their own independence.
Besides, in true American fashion, we took something already good – beer – and made it our own by making it bigger and better. We've created styles such as Steam Beer, American Pale Ale, American IPAs, and Double IPAs. We've added more hops, more adjunct ingredients, and of course, more alcohol, to make brews that are every bit as American as hot dogs, apple pie, jazz music, and morbid obesity. Just check out (or better yet, buy) this awesome map of all the great craft beer being brewed right here in the good old U.S. of A:
Celebrating With Session Beers
While we mostly support America's attitude towards bigger being better, this may not always be the best idea when selecting a beer. After all, if your Independence Day plans include drinking beer followed by explosives, you may want to opt for something that will keep you sober enough to ensure you don't blow yourself up. Fortunately, breweries know that while it's their big-beers that win them fans as well as mentions on various "best beers" lists, lower alcohol beers are important too. Session beers, or beers that are no higher than 5% ABV, have been increasing in popularity to satisfy the demand of drinkers who want a lower alcohol beer while maintaining the same great craft beer flavor. Thanks to session beers, you can have all those delicious hops and not end up drunk and passed out in your lawn chair before it's time to blow shit up. That's a win/win.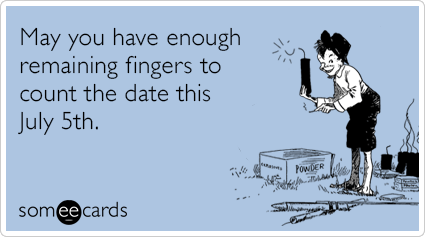 Recommended Session Beers
Session Beer isn't limited to one style of beer, but where it's really seemed to have taken off this year is in IPAs. While variety varies per market if you visit the craft beer section of your local liquor store you're sure to find at least one or two great new session IPAs. These beers will give you all the great bitterness and aggressive flavor of your favorite IPA, without knocking you on your butt after just a bottle or two. Here are a few of our favorite session IPAs for this summer, perfect to tuck into your ice cooler for this 4th of July weekend:
After hitting the market last summer this session IPA quickly became a staple in our beer fridge. Boulevard describes Pop-Up as "a full flavor beer that's suitable for all-day drinking." With a nice malt backbone and 5 types of hops (Mosaic, Cascade, Amarillo, Citra, and Centennial) this beer gives you all the great citrus flavor of a traditional IPA with only 4.2% ABV.
It's no secret around our house that Jeff is a big fan of Stone Brewing's aggressively-hopped IPA as well as their Arrogant Bastard Strong Ale. Unfortunately, with ABVs at 6.9% and 7.2% respectively, Jeff can usually only enjoy one, maybe two, before turning into his own version of an arrogant bastard. It's really no fun for anyone. That's why we were thrilled to try Stone Go-To IPA, a hop-heavy IPA that delivers a healthy dose of aggressive hops with only 4.5% ABV. The flavors we get with the Go To IPA are grapefruit and pine, with a nice balance of biscuit malt, making this a hoppy-yet-refreshing beer that is the perfect go-to beer for summer. Get it? Go-to? Yeah… you see what we did there…
If you're a fan of Firestone Walker's Union Jack or Double Jack, you know they make some damn fine IPAs. This summer they released Easy Jack, a 4.5% ABV IPA that was dry-hopped with selections of new hop varieties from Europe, New Zealand and North America. This session IPA offers plenty of great citrus notes such as grapefruit and orange peel, with a floral and almost tropical fruit aroma that's tough to put our finger on, but is delicious. Again this is an IPA that seems to have been made with lazy summer days in mind.
While the label technically lists Loose Leaf as an American Session Ale, the name alone should indicate that there are plenty of hops in here. "Loose Leaf" was named in homage of the loose, whole flower hops used to give this beer it's fresh, floral hop aroma and light citrus flavor. This beer was available in limited quantities last year but has recently been launched as a year-round offering. It's the perfect beer to sip while playing games in the backyard.
Those are a few of our favorites, but there are certainly more session beers to try – with new ones coming out every day. If we didn't mention your favorite session beer, we may not have tried it yet. Send us a comment below and let us know what other session beers we need to try.
Try Lots of Great Session Beers at Sesh Fest
Finally, if you're in Denver and you want to try even more great session beers check out the Sesh Fest, sponsored by Imbibe. At this festival on August 2nd, you can enjoy session-style beers by dozens of different breweries all in one place. They also promise to have plenty of art, food, lawn games, and music to accompany the great session brews. Tickets are only $20, so buy them now while you still can.
Whatever your plans are for this Independence Day weekend, we hope you have a wonderful time. Please also celebrate responsibly. We don't have many readers, so we really can't afford to lose any of you. Have fun, but be safe!
Cheers!