Once again this year, Great American Beer Festival (GABF) tickets sold out in only minutes and I like to think that we had a little something to do with their incredible success. You see, for the past several years your BMT team has volunteered to pour beer at GABF. This year we stepped up our game and also signed up to help with setup and to distribute GABF posters. We hung promotional Great American Beer Festival signs all over the greater Denver area, from Castle Rock to Golden to Central City. You know, because the Great American Beer Festival clearly needs to be promoted. Okay, maybe not. OR… maybe they would have done horribly in ticket sales this year without our help. You never know. But one thing is for certain, visiting a lot of breweries meant we tried a lot of new beers.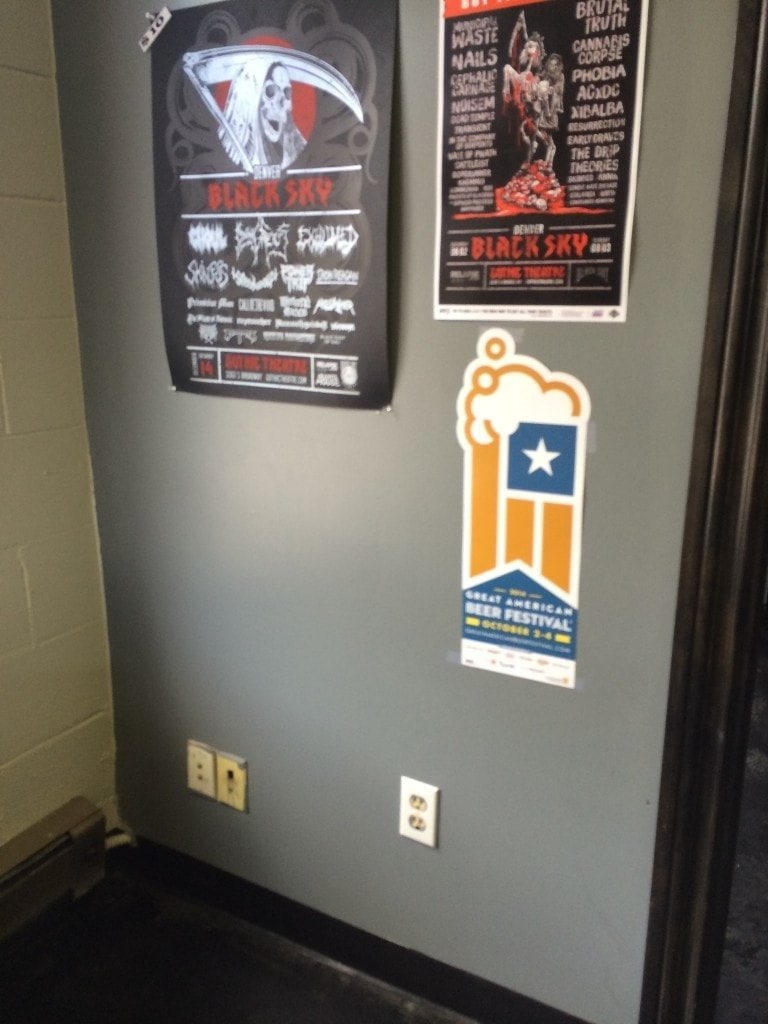 GABF Volunteer Brewery Crawl
Hanging GABF signs was a tough business. Over two weekends we hung 50 signs in various beer-friendly bars, restaurants, breweries and liquor stores. The first weekend went pretty smooth, but by the second weekend, we were having a harder time finding places not already tagged (with signs from other volunteers) and had to expand our venture outward. The hard part was that as we visited all these great breweries and bars, we couldn't reasonably drink at all of them. Well, we could, but then the signs wouldn't be hung and we'd be in liver failure, so we chose not to. Fortunately, we did make exceptions when visiting breweries we hadn't tried before and stopped long enough at each for at least one drink. We didn't spend enough time to try their full lineup or really interrogate, ahem, talk to their staff – but we were there long enough to get some first impressions. Some were good, some were bad, but for what it's worth here are our first impressions of a bunch of new (or new to us) breweries:
LowDown was the first place we stopped when we picked up our signs, and they couldn't have any more friendly or welcoming if we'd actually been there to give them GABF tickets. We celebrated that first sign with a LowDown IPA for Jeff and a Selfish Pale Ale for me. Both were aggressively hopped and delicious, and the LowDown location can't be beat, given that it's just a few blocks from our 9-to-5 gigs. The brewpub is has a large and open floor plan, which was very comfortable and lively, in that you had a great view of the whole place from the bar. It was perfect for people watching introverts like us. The patio is an enormous oasis full of tables and outdoor games, and would have been the place to waste the day away had we not had other obligations. The food also looked amazing, especially their pizza. In summary, we will be back to LowDown soon, we will be hungry, and we will be spending the entire afternoon on the patio.
Beryl's Beer Co
We happened to visit Beryl's on their second day of business. The beers were good, but as with a lot of newly opened spots, we feel they'll get better with time. The focus of Beryl's will be barrel aged beers, but the only had one barrel aged variety on tap when they opened. As they release more, we will expect more, but for this first visit, we'd say they're pretty good. I enjoyed the Wald Bier, a delicious German-style steam beer that was very refreshing on a hot summer day. Jeff tried both the Batch 1 English style special bitter, and the brandy barrel aged version of Batch 1. Both were good, though the brandy wasn't noticeable enough to make it stand out above the normal variety. The brewery itself was large and industrial, comfortable but not overly fancy. Clearly, the focus here is on the beer (as it should be) and though we weren't blown away on our first visit, the beers were very good and should only get better. We'll be back.
3 Freaks Brewery
3 Freaks is one of the newer breweries in Highlands Ranch, and sadly their lack of experience shows. When we visited we decided to try the flight of four to sample all four of the beers they were pouring. The guy behind the bar immediately told that he was proud of some, but not so much the others. He told us the Odd Man Stout and the Lucky Clover Irish Red were the best, the Last Man Standing Belgian Dubbel was okay, and the Hop That Ale was not good at all. In fact, it was supposed to be an IPA and it went sideways, so he didn't recommend it. While we appreciated the honesty, the reality for us was that the stout and red were okay, the Belgian was far too sweet for our palates, and the Ale was just horrible. Horrible as in we couldn't even finish the sample. We're going to give 3 Freaks the benefit of the doubt that things will get better because we want them to do well. However, on a personal note, it's disappointing to be poured a beer they admitted wasn't good. It was not a good first impression. We'll give them some time to work on things and check back again.
Blue Spruce is another newish brewpub, situated in a strip mall just outside Highlands Ranch. The location was large with lots of tables, bar space, and a big patio. Inside Blue Spruce pours their own brews plus several great guest taps and cocktails, and they have a full food menu. We decided to try a few beers – the Blue Spruce Blonde and Blue Spruce IPA – plus a soft pretzel served with cheese sauce and mustard. The Blonde was really great, while the IPA was good but nothing too memorable, likewise for the pretzel. We were stumped trying to figure out if this was a brewery that serves food or a restaurant that brews beer, since neither seemed to be much better than the other, at least in our first experience. In the end, we gave the slight edge to the beer thanks to the delicious Blonde. We'd be back again if we're in the neighborhood, but we didn't leave so excited as to seek them out.
Grist was our last stop of the day, on the same day we visited 3 Freaks and Blue Spruce. After a long day of "meh" experiences, Grist came to the rescue and it was love at first taste. Clearly, the good word about Grist is out, because the place was packed asses-to-elbows. We managed to squeeze into the last two seats at the bar and ordered a flight of their core beers. AMAZING. Our favorites were their Transition State Kölsch and the Window Tour Hefeweizen. Neither of these are typical of our favorite styles, but Grist made us love them anyway. We had the Kölsch without any flavored syrup, though they offer it if you'd like to kick things up. Grist is well decorated, comfortable, and high-tech – at least when it comes to their growler filler, which ran non-stop while we were there. Grist seems to be the hottest new brewery in 'da Ranch, and for good reason. We'll be back again for certain.
We made the trip to Central City for Independence Day, so we didn't really drive all the way up to deliver a GABF sign. Still, while in town we decided to stop, drop a sign, and have a beer at Dostal Alley Brewpub. This is an old school brewery, perfectly situated amongst the old buildings and casinos of Central City. The crew and the customers were just the right amounts of rough around the edges, and if you were hungry there is a pizza place on site where you can grab a few slices. Unfortunately, when we were there they'd run out of their GABF medal winning Pub Ale, so we opted for a few pints of Gilpin Gold IPA. It was a good, traditional American IPA – hoppy and bready and served just a bit warm, which was nice though I'm not sure if it was intentional. The beers were good, and the people watching was amazing. This casino is pretty rustic and adjacent to the pub, so you can watch the nickel slot players while you enjoy your pint. And yes, they still actually pay in nickles, not credit slips. Dostal Alley even let us wander through their tiny brewery and onto their back patio to take in the views. In the end, I don't know that we'd make a special trip up for a pint, but next time we're in town we'll definitely stop by for a beer and to play some slots.
What's it with Golden and great beers? Did you all cut your teeth at Coors and then break out to make bigger, more amazing stuff on your own? Whether it's that, or it's just in their Rocky Mountain fresh water, the breweries of Golden are outstanding, including Cannonball Creek. The tasting room is nestled in the corner of a strip mall a bit outside of the main drag, with plenty of parking and lots of space inside to handle even the biggest crowds. We took our beers outside to the patio, which isn't huge and overlooks a parking lot and a gas station, but was still just perfect for enjoying our Cannonball Creek beers on a sunny summer day. There were tons of families so if you're the type that doesn't want to drink around kids and dogs, maybe stay inside and find a corner to yourself. We didn't mind the crowded patio, especially once we had a sip of their Rosemary Sourdough Saison. We didn't mind anything after a few sips of this beer, it was delicious! The rosemary aroma and flavor was amazing, especially combined with the bready malt and yeast of this beer. It was the beer version of focaccia bread, and I dare you to say there is anything wrong with that. The IPA was also very good, and the menu suggested lots of other brews we'd love to come back and try. Next time we're in Golden we won't make the mistake of passing Cannonball Creek without a pint or a growler, that's for sure.
Barrels and Bottles aren't that new, but it was new to us. Just a rock's throw from Coors, I don't know how we missed this place last time we were in Golden, but we won't make that mistake again. Funny thing is, I didn't even try the beer. Jeff had their LiL IPA, which was good but again not as spectacular as he would have liked (though he keeps that IPA bar pretty damn high.) You see, while we always believed that Barrels and Bottles dealt with barrel aged beers exclusively, the reality is that they brew beer (in barrels) as well as a plethora of great wines (from bottles.) And get this y'all … they make a WINE SLUSHY. Let me set the scene here: We drove to Golden in a Jeep Wrangler with the top off, on a 90+ degree sunny day. This was our last stop. When I saw the wine slushy machines, I almost cried I was so ecstatic. I got a mug full of some red and white swirled wine, I don't even remember what varieties but it was frozen and delicious. Then we made friends with some friendly locals, settled in at a table under a giant-ass ceiling fan, and finally cooled off. The crowd of cyclists and hikers was fun and friendly, as was the staff. If we lived in Golden we'd be locals at this place. Yes, that means we'll be back. Maybe next time I'll have a beer, but only if that wine slushy machine is out-of-order.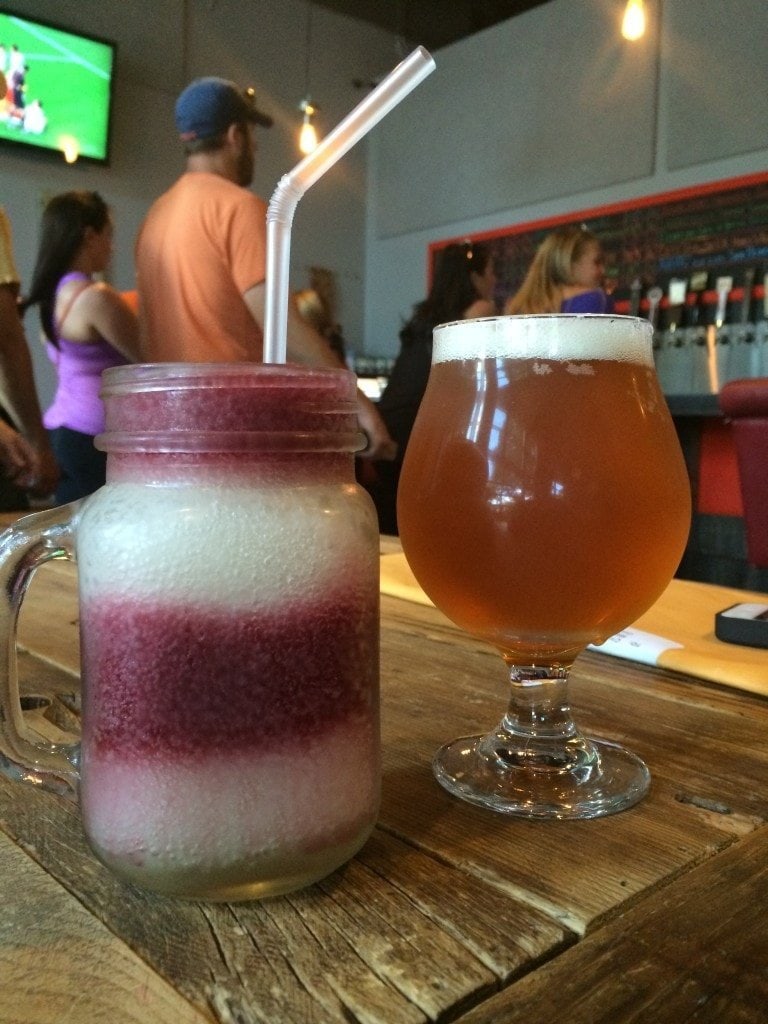 A long day of sign hanging can make a team of lowly volunteers hangry, so we decided to stop at Yak & Yeti for a pint and some food. There are nearly 300 breweries in Colorado, but Yak and Yeti stands a world apart from the competition, not just because of their beers, but because of their menu. Yak & Yeti serves the cuisine of India, Nepal, and Tibet. They break the rules by being both a really great restaurant and a really great brewery, and we're their newest fans. They had a huge variety of beers and beer cocktails, including incredible flavors like a Jalapeno Lena, a Chai Milk Stout, an Imperial Barrel Aged Saison and a Cherry Wheat. Unfortunately, after a day of beer sampling, we stuck to the more simple stuff. I had the light and refreshing Namaste Pilsner, while Jeff had the delicious Himalayan IPA. We also had the dinner buffet, complete with all sorts of delicious foods, some we recognized and some we didn't – but still ate. The beers were great, but in all honesty, we stuffed ourselves with so much Indian food we didn't even finish our pints. We left fat and happy, with no regrets and a lot of reasons to return. Next time we'll try to finish a beer or two before we stuff ourselves with curry, saag paneer, and naan. Maybe.
We were pretty peeved to pull up and realize that Hall Brewing already had a GABF sign, those bastards, but we went in for a drink anyway. Hall Brewing offers their IPA as fresh hop infusion, meaning they dump a bunch of fresh hops into a French press with the beer and dry hop it at your table. How could we say no to that? The lady working that afternoon didn't know what type of hops they were, but we let her infuse our beer anyway. Yes, this is mostly just a novelty and it didn't cause Jeff to go into a hop-shock due to overwhelming bitterness, but it did inject a nice, fresh hop flavor. I stayed away from the hops and had Hall's Juicy Peach Blonde Ale, which was outstanding. The great peach aroma and tart finish were delicious, making this the perfect, easy-drinking summer beer. It was like Peach Cobbler in a glass, which got me thinking … between this beer & the Rosemary Sourdough Saison at Cannonball Creek, I'm on my way to creating a full menu for a meal made entirely of beer. The main dish is likely going to be a challenge, but I think I'm on to something. Oh, sorry… I got distracted. In summary, our first impression of Hall Brewing was great, and we'll be back again and often.
Overall, the Great American Beer Festival once again helped us find some great new beers, albeit in a new and indirect way. I can safely say we found several new favorite beers and breweries that we'll visit long after those signs are taken down.
Cheers!
PS: Please don't be silly and think we went to all of these new breweries on the same day. We would hit one, two, or maybe even sometimes three in a day, but we're not idiots. These reviews were based on tastings that occurred over about 10 days, so don't give us any grief about it.