Call it sour grapes, but here in Denver, we're not feeling the Super Bowl spirit this year. Since our Broncos got kicked out of the playoffs embarrassingly early, we're still feeling a little deflated. [Insert your own clever New England #deflategate pun here.]
Making the Best of Super Bowl XLIX
Chris and I have family living in both cities so we're not throwing our support behind either team. Even though we couldn't care less who wins, we know that when this game is over one side of our family will be celebrating, while the other side gets to feel a Super Bowl disappointment we know all too well. But not having a Bronco horse in the race doesn't mean we won't enjoy the game. This year we're planning on watching for the commercials, the halftime show, and because it's a wonderful excuse to hang out with friends, eat bad food, and drink plenty of beer.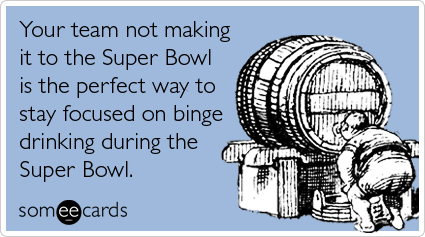 One way we are making things exciting this year is by stocking up on beers from both the Washington and New England region. We're not sure what our local bottle shop will have, but at the very least we know we can find some Sam Adams and Elysian to enjoy during the game. Then we can have our own Super Bowl Beer face-off to pick our favorites. Follow us on Facebook or Twitter this Sunday to see what beers we will be tasting, and who we crown the Super Bowl Beer winner of 2015. We'd also love to hear what you're drinking on game day.
Super Bowl Drinking Game
Another way to make the Super Bowl fun is by playing a Super Bowl drinking game.  There are tons of versions floating around the internet… so many, in fact, that Buzzfeed already has a Top 10 list of games you can play to imbibe while pretending to care about the game.  Porch Drinking has published some pretty awesome Super Bowl Bingo cards again this year if that's your kind of thing. There are so many versions that we couldn't help but jump on the bandwagon & create our own. Our drinking game is very simple, and you're not even required to pick a favorite team in order to play.
Disclaimer:  It should go without saying, but please drink responsibly. Make sure you have lots of food handy to soak up the booze, and absolutely do not play along if your game-day plans involve driving. This game is best played from the comfort of your own couch.
Cheers!