This weekend something rare and wonderful happened: we had nothing on our calendar! I can't stress enough how rarely that happens to us. It's crazy how busy life can seem sometimes, which is why it's incredible whenever we can wake up in the morning with no agenda, no plans, and no commitments for the day. We decided to spend our free day doing what we love best, exploring some great Colorado craft breweries! After checking our map and considering all the places we still have to visit, we decided on a day trip to Broomfield, Colorado.
What's Brewing in Broomfield
Broomfield is in the southeastern corner of Boulder County, about 90 minutes from our home base. It was a beautiful day for a drive, plus when we arrived we knew that there were three breweries that we needed to visit: Wonderland Brewing, Big Choice Brewing, and Four Noses Brewing. Given that all three breweries were pretty close to one another, it seemed like the perfect place to visit and waste away our free afternoon.
Our first stop in Broomfield was at Wonderland Brewing Company. With their smiling Cheshire-Cat logo, you can likely guess that Wonderland has a bit of an Alice in Wonderland theme, but that doesn't totally define them. There are some Alice themed pictures and beer names, but for us, it's the brewery itself that is a real Wonderland. Their tasting room is huge, in a 9000 square-foot building that used to house a church. Wonderland has no problem filling this large space, and fortunately, the parking lot can also easily accommodate a crowd. Why is everyone flocking to Wonderland? Well, they frequently feature live music on their stage and use their extra space to host yoga and fitness days in the brewery. They also have a half-dozen tournament-style ping-pong tables, and out back are some basketball hoops. If you just want to relax with a Wonderland beer, you can do that on their expansive patio, belly up to their large bar, or take any one of the many tables and booths that surround the place. There is lots of fun to be had at Wonderland Brewing, and they're ready to accommodate even the largest of craft-beer loving crowds.
We settled in at the bar and decided on a sampler of all 12 Wonderland beers on tap. The samples are small, and we received them six at a time on a ping-pong paddle-shaped taster trays. Wonderland offers a nice variety of beers styles on tap, including a few IPAs and pale ales, several different Belgians styles, a couple of stouts, etc. Most notable were two of their standard brews: the Hop Tail IPA, an American IPA with a lemon and grapefruit bitterness that was light and easy-drinking; and the Three Putt Pale Ale, a German-inspired pale ale that was lightly hopped with Tettnang and Crystal Hops. We also loved their Bourbon Barrel Aged Imperial Stout, which smelled like straight-up bourbon, but one taste and you'd experience a much softer, sweeter flavor than the aroma would suggest. We had it on nitro, making it extra creamy and delicious. Another favorite was the Cat's Pajamas, a delicious Belgian Doppel Weizen. With so many great styles to choose from, Wonderland makes something for nearly every palate.
Since we had two more stops we limited ourselves to the samples but took home a couple of WonderCans. WonderCans are canned beer growlers, aka crowlers, that they fill up & seal so that you can enjoy fresh Wonderland beers to go. We selected the Hop Tail IPA, which seemed like the perfect beer for Easter. Since you save $5 on the 2nd crowler, we also grabbed a can of the Three Put Pale Ale.
We really enjoyed Wonderland Brewing Company. It was a friendly, neighborhood spot where everyone was happy and having a good time.
Wonderland Brewing Co is at 5450 W 120th Ave, Broomfield, Colorado
Wonderland Brewing on Facebook
Wonderland Brewing on Twitter
Big Choice Brewing was just down the road from Wonderland, but it may as well have been a world away since the atmosphere was so different. The Big Choice brewery and tasting room is off the main road in an industrial complex, and we circled it twice before we spotted the door. The tasting room is tiny, but there is a larger room with games upstairs. We stayed downstairs and were happy to find a few seats at the bar. Maybe it was the punk rock playing, or the friendly greeting we received when we walked in, but we instantly felt at home here. This is a good ol' no-frills brewery, and we loved it.
We ordered a full sampler of all 8 Big Choice beers, which included 5 year-round standards and 3 seasonal brews. Their lineup included several IPAs, so Jeff was a happy camper. Of the IPAs he liked the 104 IBU Hemlock Double IPA the best, while I preferred the Disconnected Red IPA. The 10,000 Summers Saison was also excellent, as was the West Portal Colorado Common Summer Ale. We couldn't help but feel that Colorado Common had a distinctly "Colorado" aroma of something we'll just call medicinal, but we couldn't decide if that was intentional or just our noses playing tricks on us after joking about the meaning of a Colorado Common beer. The most unique brew at Big Choice was the #42 Poblano Stout, an oatmeal stout dry-hopped with poblano peppers. It not spicy but rather smoky, and though it wasn't our favorite it was definitely different. Kudos for being adventurous!
Big Choice Brewing has been around for nearly 3 years, and they make some solid, delicious beers. There was a constant influx of regulars coming and going, enjoying beers and filling growlers. The only thing we found unfortunate about Big Choice Brewing is that they only accept cash gratuities. You can pay by credit card, but you cannot tip that way. WTF? We managed to scrape together a tip by emptying all the change out of our car, but handing over a fistful of loose quarters left us feeling really awkward. We saw at least one other couple leave without tipping, as they had no cash. It would be great if they at least had an ATM on site, if not for the customers, then for the bar staff. Lesson learned: next time we'll bring cash.
Big Choice Brewing is at 7270 W 118th Place, Broomfield, Colorado
Big Choice Brewing on Facebook
Big Choice Brewing on Twitter
The last stop on our tour of Broomfield breweries was Four Noses Brewing Co. Built in a newer industrial complex not far from the 1STBank Center, they were pretty basic looking on the outside, but the inside of this year-old brewery is gorgeous. There is a large patio where you could watch the sunset, and the inside has tons of windows, and walls fitted with natural, beautiful wood planks. The samplers are served on the same wood that adorns the walls, exposed bark and all. It's all very outdoor-chic.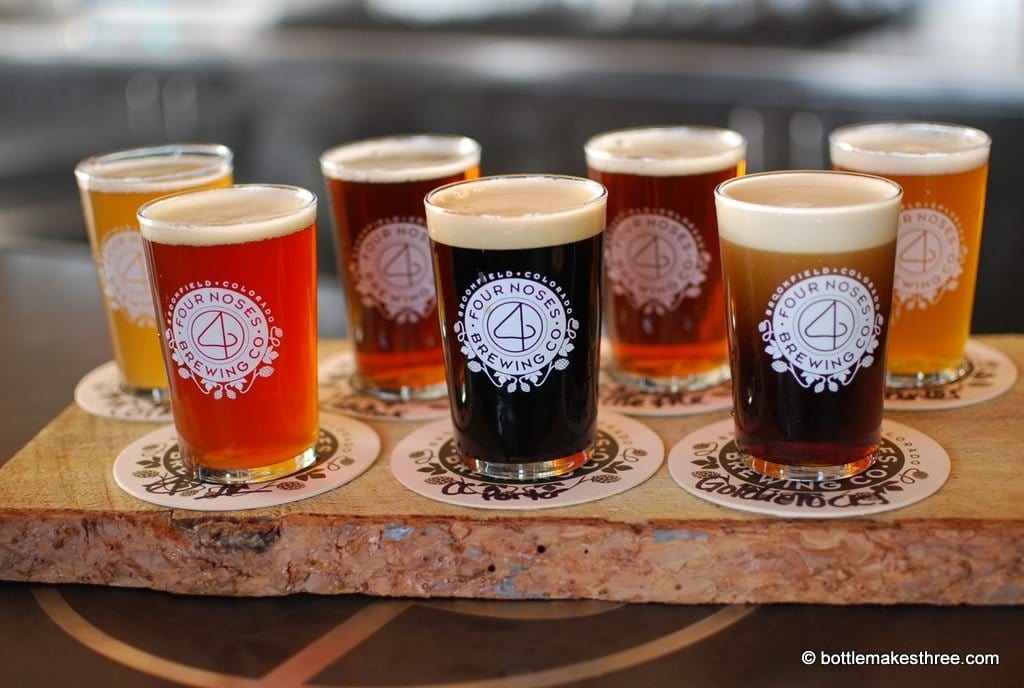 During our visit, there were more than a dozen beers to sample, and since this was our final stop, we knew we didn't have it in us to try them all. We opted for a sampler of seven, and our server was incredibly helpful when it came to explaining the beers and assisting with our selections. We started with the Collab Wit, a Broomfield brewery collaboration beer created by all three of the breweries we'd visited during the day. It was a light and slightly spicy saison, and the perfect way to toast the last stop of our Broomfield brewery crawl.
Our other favorite beers at Four Noses? Jeff really loved the Anarchy Ale IV, which was aggressively hopped and bitter, as well as the Charles IPA, a well-balanced English-style IPA. My favorite was the Goldie Locks Milk Stout with honey and oats, which was sweet, luscious and yummy.
Four Noses was fantastic, both in the beer and the atmosphere. With a food truck serving BBQ outside and live acoustic music inside, we found it hard to leave. We'll definitely be back.
Four Noses Brewing Company is located at 8855 W 116 Cir, Broomfield Colorado
Four Noses on Facebook
Four Noses on Twitter
Thanks, Broomfield!
Apparently, we need to get out more. It's a shame that we hadn't been to any of these great Broomfield breweries before, as we enjoyed them all for their distinctive beers and unique personalities. Next time we make our way through Broomfield we're going to have a tough decision to make… which one do we visit? Or maybe we'll just visit them all again. Yeah, that sounds more like our kind of plan.