You may be shocked to hear this, but we have visited a lot of breweries. Like, a lot. We love to seek out beer at the source at our local brewery taprooms. We love the whole experience of sipping our beer where it was made. We enjoy the relaxed atmosphere, the fun people, and making new friends. And of course, there's the beer, too.
Often when we walk in a new brewery taproom we know within minutes of arriving if we're going to have a great experience or not. Sometimes we love the taproom before we even try the beer. Occasionally that's left us feeling some heartache if the beer isn't really our style. But most of the time we leave that taproom happy and looking forward to coming back again.
So what is it that we look for in a great brewery taproom experience? Today we'll take a look at some of the things we expect from great breweries, in no particular order.
10 Things We Look For In A Great Taproom
#1 – Incredible Beer
Obviously, it's not all about the ambiance. Lest you think that we're saying the beer doesn't matter, we wanted to address this first. To be a great brewery and deliver a wonderful taproom experience, you have to serve kick-ass beer. We know that taste is subjective, so what is great to us may not always be great to you. But consider that we've logged more experience tasting that the average drinker, we have a pretty good idea of what a bad beer tastes like. Beers that don't match their style, with clear defects in their flavor, or served out of dirty glassware – are not great.
Beyond that, a beer may be great if it's perfectly crafted according to the style guidelines. Even if it's a style we don't love, we have to appreciate a well-made beer. On the other hand, we've sampled and loved many beers that don't perfectly align with a particular style. Some breweries focus on making what they enjoy and aren't afraid to take risks and experiment with flavors, rules be damned. Truthfully, these beers are often the most exciting to try, because they're new and different. We can appreciate a good beer whether it's a perfect example of the style or not. In short, we like what we like. So if you like a particular brewery's beer, that's all that matters.
# 2 – Beer Tasters & Flights
In Colorado, it seems like most craft breweries offer taster sizes of their beer for purchase. This allows a drinker to sample something before they buy a full pint. It also allows craft beer geeks, like us, to experience a large sampling of the brewery's beer, without getting totally hammered. If you're new to craft beer it's a great way to discover what styles you like. For beer connoisseurs, a small sample lets you try something new without committing to a full pour. Maybe you'll love it, maybe you'll hate it. At least you can find out without paying for a full-priced pint. Once you find a beer you enjoy, then try a full pour. You'll get an even better flavor and aroma experience, we promise.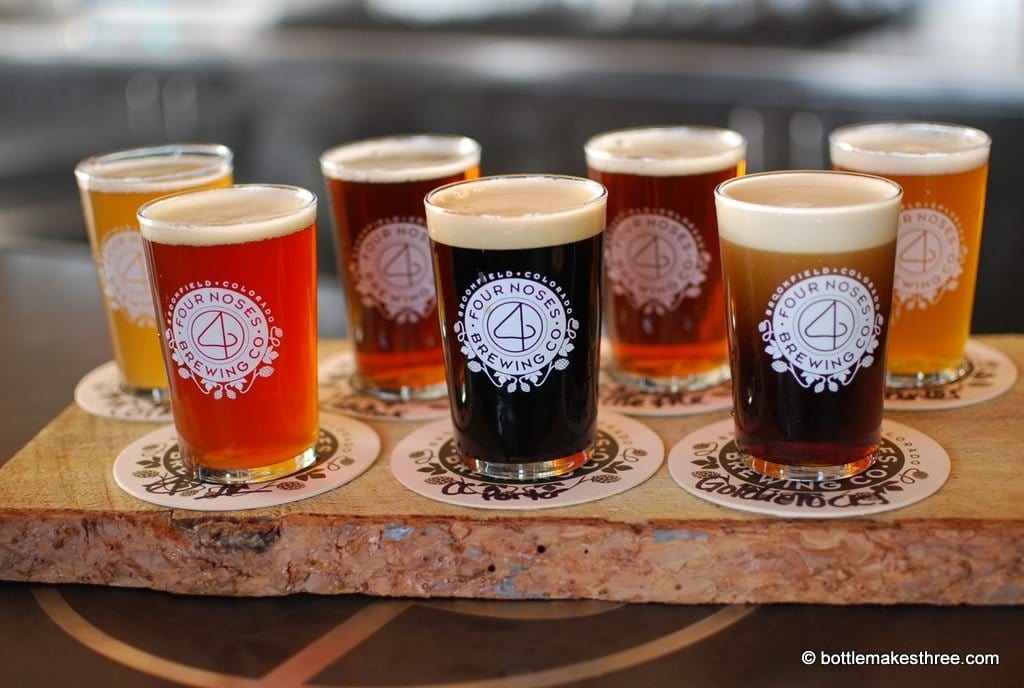 #3 – Good Branding
Brewing is an art and a science. But operating a brewery is knowing that it's also a business, and every business needs good branding. Great branding will grab someone's attention and make them want to know more about you. It helps tell the story of who you are and just feels way more awesome to your customers. Why do we care, you ask? Well, consider that nearly everyone today is on social media. We share pictures of our pets, our food…. and our beers. Is all that photo-taking annoying? For sure. Does it help to advance the brewery's brand? Only if they take advantage by putting their logo on the glassware.
If you're a brewery you may be wondering, why do we care about your brand? Personally, we just hate taking pictures of plain-old, boring pint glasses. A picture of a beer in a great glass with your sweet logo is much more appealing. If your design is really great we may even want to buy a few shirts or a hat. That means we are paying for the honor of wearing your gear and becoming walking billboards for your brewery. Crazy, isn't it? Wrong. It's only crazy if you're not taking advantage of it.
# 4 – Food
If there is one thing we love more than beer, it's food. Food is an important part of our life. We often plan our drinking adventures around where we want to eat. When we can merge our love of beer and love of food together, that's pure joy. Also, we can only enjoy so much beer without something to nibble on, otherwise one of us gets a bit cranky. (Yes, I'm talking about me. And no, I am not sorry for what I said when I was hangry.)
We're not saying that every great brewery taproom needs to have a kitchen. But ideally, they should have something. A regular rotation of food trucks is great, but logistically they can't be there all the time. At minimum, they should have some snacks available. Pretzels, popcorn, or small snacks for purchase is enough to hold us over. A brewery can also work with local restaurants to offer menus of to-go foods for their patrons. Bonus points if the restaurant is within walking distance, or delivers. Otherwise, if we have to make a run for food, most likely we won't be coming right back. Sorry, them's the breaks.
# 5 – Website & Social Media Activity
Why do we care about online presence when we're talking about what makes a great brewery taproom?
Let's pretend for a moment that we're bored and thirsty. We decided it would be fun to check out a new brewery. There are loads of great breweries to choose from, so how do we decide where to go? Well, first we'll visit the brewery's website to learn a bit about them. We want to see their hours and learn a bit about their beer selection. Next, we'll probably check out their Facebook page to see what they have going on. Is anything new & exciting on tap? Do they have live music? A food truck? Is there anything special happening?
In today's business environment, we expect to be able to learn all these things online. We aren't going to call the brewery to ask, that's just crazy talk. I don't think we're alone in this. If we don't find the information we are looking for online, we'll keep looking elsewhere. It's even worse if we do show up, only to learn that the website is outdated and wrong. We've gone to places to learn that the beers we were expecting to find were gone months ago. Another time, we drove an hour out of our way to visit a brewery, only to arrive and learn of a recent change in their hours. The website said they'd be open, but the locked door told another story. It is beyond frustrating when those types of things happen. So if a brewery is going to rank high in our proverbial book, they need to keep their online details correct and updated.
# 6 – Online Event Calendar
You could consider this part of a brewery's social media campaign, but we think it's important enough to call out separately. A great brewery needs to post their events online. We want to go to their beer releases and special tappings. We want to know about their food trucks, live music, or special events. If this information doesn't make it online consistently, we often miss out. And we hate to miss out.
Our favorite spot for stalking a brewery's events is on Facebook. For a brewery, it's free and easy to list their events on Facebook. Yet too often it's not being done consistently, or it's only being done for big events. Brewery folks, share everything! Overshare! We want to know about your promotions, special beer releases, food trucks, and more. And yes, we know that some of you list them on your website. Put them on Facebook anyway. This allows us to say we are "interested" in your event, ensuring we get reminders and updates. It also lets us tag and invite friends to join us. We love breweries who overshare on Facebook. It makes deciding where to go that much easier for us, and therefore, we tend to visit them a lot more often.
# 7 – Comfortable Environment
It goes without saying that we'd rather spend time someplace comfortable. But what that means, exactly, can be tricky. Sometimes, we like to belly up to the bar and chat with the staff about the brewery. Sometimes we like a small table in a quiet spot where we can do some work or have a private conversation. Other times we want to bring a group and gather around a communal table, playing games and getting loud and rowdy. The best thing about most great brewery taprooms is that there's space for all these activities and more. A little diversity goes a long way when it comes to seating configurations.
Oh, and bonus points if the brewery has a kick-ass patio. Patios rock.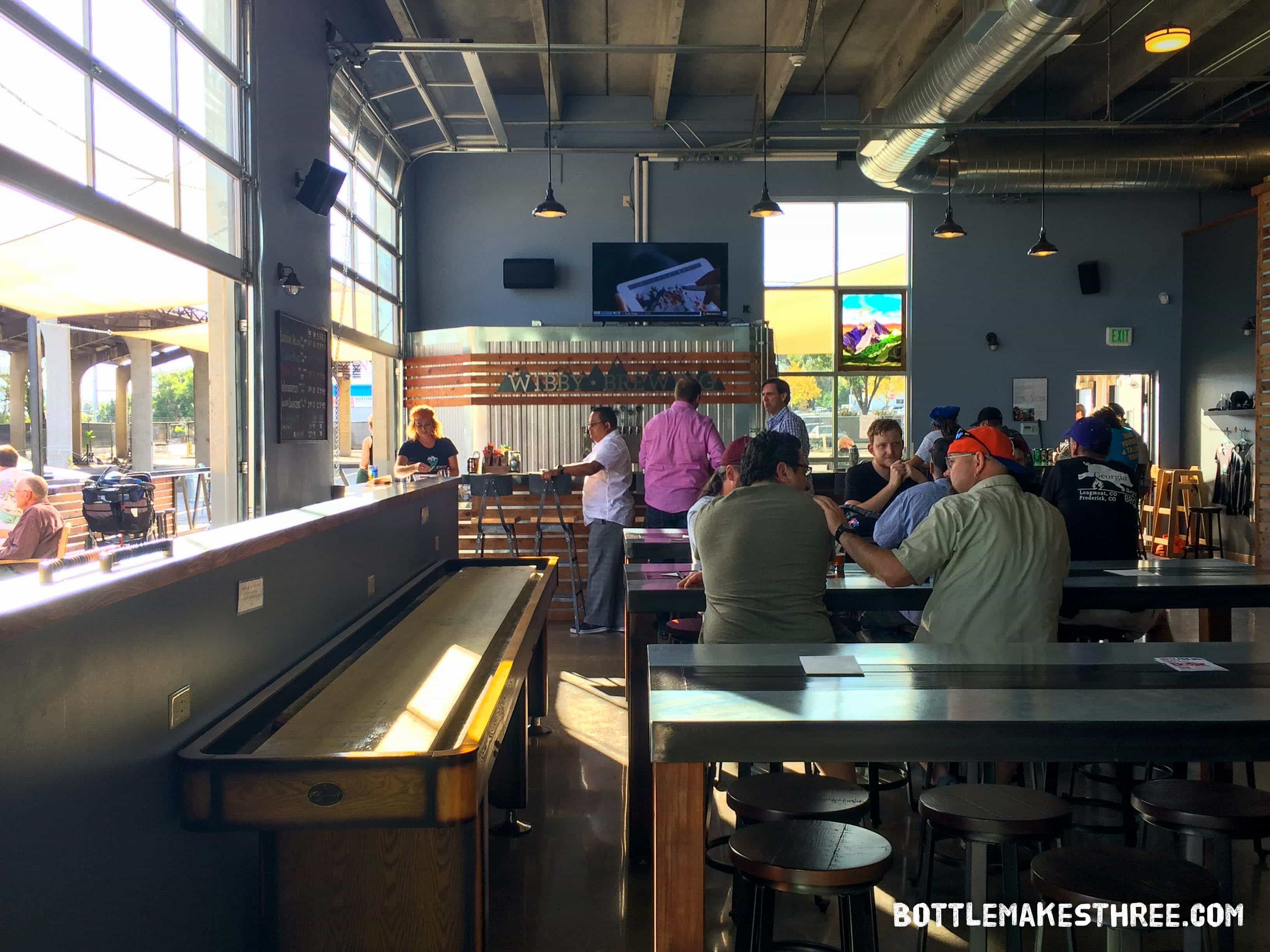 # 8 – Great People
A brewery can make great beer and have a super-awesome taproom, but if the wrong people are behind the counter it's all for nothing. Our favorite taprooms are those staffed by friendly, welcoming and well-educated servers. We have walked out of some truly world-class breweries because the people behind the counter sucked. The best people are happy to be there and ready to answer any question you throw their way. Even if the question is, "What beer tastes most like Bud Light?" They will respond politely, without rolling their eyes or being snobby or condescending. Fortunately, most folks working in the craft beer industry are awesome, so finding this in your neighborhood taproom should, hopefully, be easy. When you find those great beer folks, treat (and tip) them well. Reward their awesomeness.
# 9 – Community Connection
There is a reason why people love their small neighborhood taprooms. Great breweries are great neighbors. They participate in local events and get to know the people around them. They host fun nightly events, like trivia, crafts, or open mic night. Some even host wellness-themed events, like yoga, bike rides, and running clubs. Very often they give back to the community, through donations or service. They'll even let you hang signs for your local street festival or fair. Yeah, part of that is marketing to get their name out there, but not all of it. Most great small breweries love the folks in their neighborhood and vice versa. They provide a place for the community to gather and swap stories about what's happening in the 'hood. A good brewery can probably get by with little more than the support of their local community. A great brewery is one that makes us want to move so that we can be part of their neighborhood, too.
# 10 – That Special Sauce
With so many breweries in Colorado, it's easy to for one taproom experience to blend in another. It can be really hard for a place to stand out. For a brewery taproom to be great, they need to offer something that you can't easily find elsewhere. Maybe it's something about how they are designed or decorated, or in their artwork, or glassware. Maybe there's something unique in the theme that appeals to bikers, or hunters, or people with great facial hair. It could just be their general ambiance, or in the friendliness of who is behind the bar. The bottom line is that a great brewery will have a certain je ne sais quoi. Which is to say, a special quality that we can't put our finger on, but we know it when we experience it. Sorry, we would love to be more specific but we can't. You'll just have to find it for yourself at your favorite brewery.
So which are our favorite brewery taprooms?
We would be glad to share a list with you, but we are smitten with far too many great breweries to name. We love different places based on the neighborhood we're in, what we're doing, what the weather is like… you get the picture. But we promise to keep sharing all of our favorites with you, one by one, as we visit them. Hopefully, if we think a spot is great, you'll like them too. Follow us here and on Facebook, Instagram and Twitter. We'll be sure to let you know every time we visit a great brewery or find a new and incredible beer. Share your favorites with us, too, Post them below, or tag us on social media. We'd love to hear about the places you love!
Cheers!